Richard Zielinski, Music & Artistic Director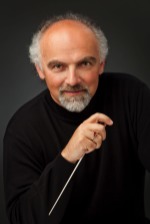 Richard Zielinski is known for his innovative programming and versatility as both an orchestral and choral conductor. A passionate and compelling communicator, with an extensive knowledge of classical and contemporary repertoire, he also serves as music and artistic director for the Norman Philharmonic in Oklahoma and is on the music faculty at the University of Oklahoma. Zielinski is in his eighteenth year as artistic director of the Classical Music Festival. He is also a recipient of the Gold Medal of Achievement for his artistic achievements and musical contributions in Eisenstadt as principal conductor and artistic director of the Classical Music Festival. Zielinski has conducted extensively throughout Europe, Asia and the United States including the opening concert for the 2014 International Haydntage with a world premiere of Haydn's Die Jahreszeiten choreographed for ballet. His recent conducting engagements in Poland include the Filharmonia Gorzówska, Zielona Gora Filharmonic, Ołsztyn Filharmonia, and Akademia Sztuki Orchestra, Shenyang Conservatory Orchestra in China, and the Joseph Haydn Conservatory Orchestra in Eisenstadt. Previous conducting engagements include the Florida Orchestra, Tampa Bay Symphony Orchestra, and Naples Philharmonic among others. A champion of new music, Zielinski has worked with numerous composers and regularly leads orchestras in performances of contemporary works. His professional vocal ensemble, the Richard Zielinski Singers, has recorded five CDs of music by many well known contemporary composers.The ensemble recently received the 2018 Grand Prix award at the International Choral Song Festival in Miedzyzdroje, Poland for their innovative and outstanding performances. Richard was also awarded Best Conductor of the Festival.
---
Jane Magrath, Piano Seminar Director
Dr. Jane Magrath, Director of the Piano Seminar, is internationally known as a pianist, clinician, and author. Her book The Pianist's Guide to Standard Teaching and Performance Literature has become a classic reference work and a second book Piano Literature for Teaching and Performance was issued in 2021. She also is known for her more than forty piano literature editions through Alfred Music that are used widely in the U.S. and abroad. She has presented over three hundred workshops and master classes throughout the US and on four continents. As a faculty member at the University of Oklahoma, Magrath was Regents' Professor and held the Grant Endowed Chair in Piano Pedagogy at the University of Oklahoma, where she was named Rothbaum Presidential Professor of Excellence in the Arts and served as Director of Piano Pedagogy. She was inducted into the Oklahoma Higher Education Hall of Fame in 2016. In 2019 she received the Achievement Award, MTNA's highest distinction, and also the Lifetime Achievement Award from the National Conference on Keyboard Pedagogy. Students and former students have been placed in university and college teaching positions throughout the US and many have won numerous prizes and competitions. Website: www.janemagrath.com

---
Don V Moses, Founding Director


Don V Moses, Founding Director and Conductor Emeritus, received his degrees from Kansas State University, Fort Hays, and Indiana University. A former Director of the School of Music at the University of Illinois, Dr. Moses has held conducting faculty appointments at the Universities of Illinois, Iowa, and Indiana. Among his many frequent guest conducting appearances with choruses and orchestras in the U.S. and internationally, he has conducted the Györ, Hungary, Philharmonic, and the Taipai Philharmonic Orchestra and Chorus of Taiwan. With his love of Haydn and vision for musical performances, he founded the Classical Music Festival in 1975 and provided the leadership for 25 years of successful concerts, lectures, and seminars in Eisenstadt, Burgenland, and Vienna. His latest book, "The Masses of Joseph Haydn" is available at www.Haydnmasses.com
---
Dean Luethi, Chorusmaster

Dr. Dean Luethi serves as Director of Choral Activities and Associate Professor at Washington State University. He received his BM in Vocal Music Education from the University of Wisconsin-Green Bay, MM in Choral Conducting from the University of South Florida in Tampa, and DMA in Choral Music from the University of Illinois-Urban/Champaign. Known for his work as a choral pedagogue, Dean has presented research, workshops, or conducted choirs at festivals, conferences, and competitions in the U.S., India, China, Cuba, Canada, Austria, Poland, and Germany. He is published in Choral Journal, Music Educator's Journal, and his books Aligning Voices: Exercises to Build Choral Musicianship and Quick Start to Choral Singing are available through GIA Publications.

---
Yunjung Lee, Concertmaster
Korean violinist and conductor Dr. Yunjung Lee is an active performer who has appeared as a soloist with many orchestras, such as Greece Symphony Orchestra, Seoul Philharmonic, Korean Symphony Orchestra, and many others, as well as in international music festivals participating in the Music Academy of the West, the Brevard Music Festival, the Orford Art Center, and the International Chamber Orchestra of Puerto Rico. Yunjung Lee is an Assistant Professor and Director of String Activities at Indiana State University, where she teaches violin, viola, chamber music and directs ISU Symphony Orchestra. Prior to joining the faculty of the Indiana State University's School of Music, Lee taught at Louisiana Tech University, at Drake University, at the Eastman School of Music, and at the University of Rochester. As a member of Trio Ronnati, she enjoys playing chamber music as well as violin solo. Lee earned her Bachelor in violin performance, and Master's and Doctoral degrees in violin performance and literature at the Eastman School of Music, where she studied with Zvi Zeitlin and Federico Agostini. Besides her strong interest in broadening her solo violin repertoire and outreach program, she is an enthusiastic chamber musician, and is passionate about teaching and conducting.

---