Richard Zielinski, Music & Artistic Director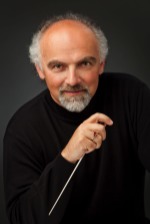 Richard Zielinski is known for his innovative programming and versatility as both an orchestral and choral conductor. A passionate and compelling communicator, with an extensive knowledge of classical and contemporary repertoire, he also serves as music and artistic director for the Norman Philharmonic in Oklahoma and is on the music faculty a
t the University of Oklahoma. Zielinski is in his fifteenth year as artistic director of the Classical Music Festival. He is also a recipient of the Gold Medal of Achievement for his artistic achievements and musical contributions in Eisenstadt as principal conductor and artistic director of the Classical Music Festival. Zielinski has conducted extensively throughout Europe, Asia and the United States including the opening concert for the 2014 International Haydntage with a world premiere of Haydn's
Die Jahreszeiten
choreographed for ballet. His recent conducting engagements in Poland include the Filharmonia Gorzówska, Zielona Gora Filharmonic, Ołsztyn Filharmonia, and Akademia Sztuki Orchestra, Shenyang Conservatory Orchestra in China, and the Joseph Haydn Conservatory Orchestra in Eisenstadt. Previous conducting engagements include the Florida Orchestra, Tampa Bay Symphony Orchestra, and Naples Philharmonic among others.
A champion of new music, Zielinski has worked with numerous composers and regularly leads orchestras in performances of contemporary works. His professional vocal ensemble, the Richard Zielinski Singers, has recorded five CDs of music by many well known contemporary composers.The ensemble recently received the 2018 Grand Prix award at the International Choral Song Festival in Miedzyzdroje, Poland for their innovative and outstanding performances. Richard was also awarded Best Conductor of the Festival.
---
Don V Moses, Founding Director


Don V Moses, Founding Director and Conductor Emeritus, received his degrees from Kansas State University, Fort Hays, and Indiana University. A former Director of the School of Music at the University of Illinois, Dr. Moses has held conducting faculty appointments at the Universities of Illinois, Iowa, and Indiana. Among his many frequent guest conducting appearances with choruses and orchestras in the U.S. and internationally, he has conducted the Györ, Hungary, Philharmonic, and the Taipai Philharmonic Orchestra and Chorus of Taiwan. With his love of Haydn and vision for musical performances, he founded the Classical Music Festival in 1975 and provided the leadership for 25 years of successful concerts, lectures, and seminars in Eisenstadt, Burgenland, and Vienna. His latest book, "The Masses of Joseph Haydn" is available at www.Haydnmasses.com
---
Xiaocheng Jia, Concertmaster
Xiaocheng Jia is associate professor of violin at the Shenyang Conservatory of Music in China, a position she has held since 2004. This is her third year as concertmaster for the Classical Music Festival after having served two years as assistant concertmaster. A frequent soloist and active chamber musician, she has performed in recital and concert with many well known orchestras throughout China, South Korea, Singapore, Malaysia, Thailand and the United States. In 2016 she was Visiting Scholar and Artist-in-Residence at Indiana State University, performing several collaborative recitals in the U.S., including with Trio Bella Voce, with whom she recently released a CD recording. She is active as a guest teacher and clinician and was part of the highly acclaimed Orchestra Kids program in Beijing. A recipient of several national violin competitions, Xiaocheng studied at the Central Conservatory of Music in Beijing for nine years before receiving her Bachelor's degree (2002) and Master's degrees (2004) in Violin Performance from the Shenyang Conservatory of Music. She is also a member of the Chinese Musician's Association.
---
Judy Stafslien, rehearsal accompanist

Judy Stafslien, is a Coach/Accompanist at Viterbo University in LaCrosse, Wisconsin, where she received her degrees in piano performance and music education. Well known as a collaborative artist in the upper Midwest she has accompanied soloists and choral groups throughout the United States and Europe. Ms. Stafslien has served as a professional accompanist for the National Association of Teachers of Singing , the Metropolitan Opera District and Regional Audtions, and the Schubert Club Auditions. She has accompanied solo, choral, and chamber works for the Classical Music Festival since 1987.
---
Brian T. Kilp, Orchestra Manager

Dr. Brian T. Kilp joined the faculty of Indiana State University in 1998 where he is Professor of Music/Horn and member of the ISU Faculty Brass and Woodwind Quintets. Brian has presented master classes and performed in Vladivostok, Russian Federation (supported by the US Dept. of State), at several Conservatories in P.R. China, as well as in numerous cities, towns, and villages in Thailand, Vietnam, Singapore, and at National Taichung and National Taitung Universities in Taiwan. In 2012 he was awarded an Honorary Doctorate at Rajabhat University Maha Sarakham University, and in 2010 awarded an Honorary Doctorate at Suan Sunandha Rajabhat University. He has been Visiting Guest Professor at the Shenyang Conservatory, Rajabhat Maha Sarakham University, and the Shenyang and Dalian Conservatories of Music in China. He is currently Principal Horn and Orchestra Manager of the Classical Music Festival Orchestra in Eisenstadt, Austria; Principal Horn of the Terre Haute and Danville (IL) Symphonies; a member of the MahlerFest Orchestra, in Boulder, CO, and the peerless New Sousa Band. He is a founding member of Trio Bella Voce and The Ambassador Brass, both of which have toured performed in numerous venues in China, and throughout Thailand, Vietnam, Hungary, Austria, and Croatia.
---
---